Corsair Scimitar RGB Elite is a mouse intended for use with MMO and MOBA games. It's a successor to Corsair Scimitar Pro and compared with it, it has a better sensor and better build quality.
At the first sight, it seems to be a good mouse with few expected downturns, with the biggest issue being weighty and having an adjustment process to the side buttons, especially if you are coming from the regular mouse.
Pros
good build quality
lots of buttons
ergonomic is weirdly good enough
scroll wheel is good (almost like Roccat)
good M1 and M2 clicks
good sensor
Cons
heavy
fingerprints stay all over it
cable seems to be stiffer than usual
Mouse Details
Brand, model and release date.
Manufacturer
Corsair
Model
RGB Elite
Release Date
2020
Your Rating
Price
Dimensions and Weight
Size and weight of Corsair Scimitar RGB Elite mouse.
Length
~119.4 mm
~11.94 cm
~4.7 in
Width
~77 mm
~7.7 cm
~3.03 in
Height
~42.4 mm
~4.24 cm
~1.67 in
Weight
~122 g
~0.12 kg
~0.27 lbs
Technical Specs
Sensor, lift of distance and rest of the specifications for the Corsair Scimitar RGB Elite mouse.
| | |
| --- | --- |
| Sensor Type | Optical |
| Sensor Model | PMW3391 |
| Perfect Sensor | Yes |
| Resolution (CPI/DPI) | 100 - 18000 |
| Maximum Acceleration | 50 G |
| Max Tracking Speed | 250 IPS |
| Polling Rate | 1000 Hz (1ms) |
| Lift Off Distance | Adjustable (~1.2mm default) |
| Switches (Lifespan) | Omron (50 million clicks) |
| Feets (Lifespan) | PTFE |
| Onboard Memory | Yes |
| Smoothing / Filtering | No |
| Hardware Acceleration | No |
| Click Latency | - |
| Shift Latency | |
Connectivity
Connectivity types for the Corsair Scimitar RGB Elite mouse.
Connectivity
Wired, USB
Cable Length
~1.8 m
~5.91 ft
Cable Type
Braided cable
General Specifications and Features
List of additional Corsair Scimitar RGB Elite features.
| | |
| --- | --- |
| Mouse Type | Gaming mouse |
| Ergonomy | Right-hand |
| Buttons | 17 |
| Suggested Grip | Claw grip |
| CPI/DPI Indicator | Yes |
| LED Lighting | Yes |
| LED Adjustable | Yes |
| Adjustable Weight | No |
| Color | Black |
| Battery Time | n/a |
| Battery Type | n/a |
Price and Warranty
Satisfaction is (not) guaranteed.
| | |
| --- | --- |
| Warranty | 1 Year |
| Manufacturer URL | https://www.corsair.com/ |
| Amazon | |
Review
What MouseSpecs think about this mouse.
Since I am mostly FPS and strategy player, you should note that this review might be a little bit biased and it might not paint the real picture of this mouse for MOBA players. Also, I only had this mouse for a day, so the review itself might be a little bit dry ☹.
Size and Shape
At first sight, the mouse seems to be good. The shape is a little bit weird and although it's a large mouse (wide) I still tried forcing a fingertip grip on it and it worked well enough, except side buttons… Those side buttons require a claw grip with your thumb.
I guess people with smaller hands could use a palm grip or hybrid grips.
1-3-1 finger setup was weird, mainly due to the right side having a tall resting position. However, 1-2-2 was a very comfortable finger configuration for this mouse, with the pinky giving additional control for precise movement (although movement is already precise due to the weight of the mouse).
It weighs 122 grams, while its dimensions are 119.4x77x42.4 mm.
As expected, Corsair Scimitar is usable only for right-handed people.
Buttons
This device has 17 buttons in total and all are programable. M1 and M2 are good enough. Nothing special but nothing bad either.
Since this is my first MMO mouse, I would define side buttons as really good. I expected it would be harder to use them but except last column (button 10,11,12) it's really not.
I would think that people who use any software requiring a large number of macros (not only gamers) would like this mouse.
The scroll wheel button is hard to press and you will most likely never use it.
Sensor
Corsair Scimitar Elite RGB comes with Pixart PMW3391 sensor. With the provided software you can set up CPI anywhere from 100 to 18000 with 1 CPI adjustment step.
The lift-off distance of the sensor is by default 1.2 mm (1 DVD) which is good out of the box.
The resolution of the sensor is boosted on this mouse compared to regular PMW3391 variants and it's 18000 CPI. Mouse tracks, according to the specs, until 250 IPS and 50 G.
In practice, I couldn't spin it out and I think nobody would notice the difference between this and the 3360, 3390 or Logitech Hero sensor.
Scroll Wheel
The scroll wheel is almost good as the Roccat Titan wheel. It has similarly notched well-defined steps. It also has a similar feel under the finger while scrolling. However, it isn't good as Roccat. It's just a little bit looser and a little bit noisier.
These things get especially noticeable when you are scrolling fast.
Anyway, it seems that competition is beginning to catch Roccat with its scroll wheel technology.
As said, the scroll wheel can click too, but it's a tedious task and require concentration and even strength to click it, so you will never use it as a button.
Cable
The cable is braided and is a little bit stiffer than other mice I had recently. If you have bungy you will not notice it. It's 1.8 meters long.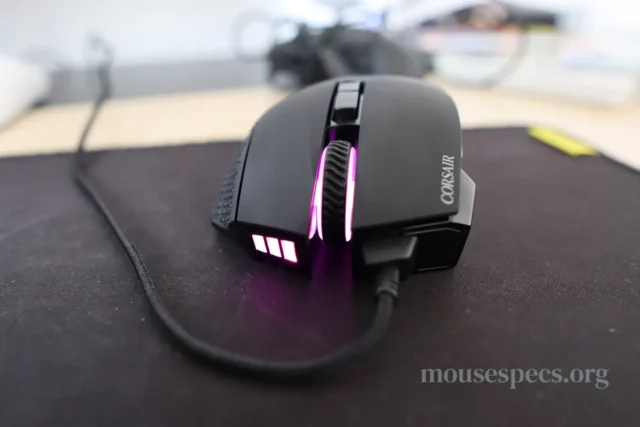 Feet
Corsair Scimitar Elite RGB has four small PTFE feet. There seems to be good out of the box. But due to my mousepad I can't really notice the difference between different PTFE feet, except if feet really suck.
I like the small hole beside each foot which allows you to easily remove PTFE without damaging it.
Coating
The mouse is coated with rubberized plastic. It's really pleasant and grippy to hold. It's like a more expensive coating than one found on Nixeus Revel.
The right side of the mouse has a rubber finger holder. Depending on the grip type you will keep your ring or pinky finger there.
Software
Corsair provides software for configuring this mouse under the name iCue. You can download it from their site.
iCue allows programming of the buttons, setting up macros, and setting up RGB colors so as to manipulate sensor options (resolution, profiles, tracking height, polling rate, angle snapping and so on…).
iCue software is unnecessarily confusing and you will need to spend some time in order to understand it and in order to learn how to configure your mouse properly.
Alternatives
I will mention a few of the alternatives to Corsair Scimitar RGB although I didn't use any of those: Corsair Scimitar Pro, Logitech G600 and G604, Havit MS375, Roccat Nyth, Razer Naga Trinity, Razer Naga Pro, Asus ROG Spatha, Redragon M908, SteelSeries Rival 500, Logitech G502 Hero, UtechSmart Venus…
Conclusion
This is a relatively good mouse. It has a nice scroll, decent buttons, great side buttons and a good sensor. For FPS games it's too heavy, but that's not its niche anyway.
For MMO and MOBA gaming I suppose it's very good. It should work well for content editors who use lots of macros.
I would not like to stick with it and would rather have a simpler and more traditionally shaped mouse with fewer buttons. I feel that side buttons are influencing how I hold and move this mouse like I am restrained somehow, but this might be a subjective thing and it might go away after the adjustment period is passed.
Video Review / Different Opinion
Adittional look and feel of the mouse.