Roccat Kone Pure Ultra is the lightweight variant of the cult mouse Roccat Kone Pure Owl Eye. It's not the perfect mouse although many claims it is. However, it is very easy to overlook his flaws mainly because of its godlike scroll wheel and lightness.
It has the Pixart PMW 3381 which is basically a slight PMW3389 upgrade. Specs are the following: 50 G and 450 IPS of tracking with 50 – 16000 CPI. Main clicks could be better and are not consistent, on a moment you can feel springs and mushiness; shape is "like it or hate it" thing. It will fit nicely for claw and fingertip users.
Mouse tracks from 1 DVD height but not from 2. Tracking height is adjustable. Everything is packaged in 68 grams. Cable is decent, nothing special and nothing really bad about it.
Pros and Cons
Pros
Excellent sensor
Scroll wheel
Weight
Cons
Subpar click feels
Maybe cable should be better ???
Mouse Details
Brand, model and release date.
Manufacturer
Roccat
Model
Kone Pure Ultra
Release Date
2019
Your Rating
Price
Dimensions and Weight
Size and weight of Roccat Kone Pure Ultra mouse.
Length
~115 mm
~11.5 cm
~4.53 in
Width
~70 mm
~7 cm
~2.76 in
Height
~39 mm
~3.9 cm
~1.54 in
Weight
~66 g
~0.07 kg
~0.15 lbs
Technical Specs
Sensor, lift of distance and rest of the specifications for the Roccat Kone Pure Ultra mouse.
| | |
| --- | --- |
| Sensor Type | Optical |
| Sensor Model | PMW3381 |
| Perfect Sensor | Yes |
| Resolution (CPI/DPI) | 100 - 16000 |
| Maximum Acceleration | 50 G |
| Max Tracking Speed | 450 IPS |
| Polling Rate | 1000 Hz (1ms) |
| Lift Off Distance | Adjustable (~2mm default) |
| Switches (Lifespan) | Omron (50 million clicks) |
| Feets (Lifespan) | PTFE |
| Onboard Memory | Yes |
| Smoothing / Filtering | No |
| Hardware Acceleration | No |
| Click Latency | - |
| Shift Latency | |
Connectivity
Connectivity types for the Roccat Kone Pure Ultra mouse.
Connectivity
Wired, USB
Cable Length
~1.8 m
~5.91 ft
Cable Type
Rubber cable
General Specifications and Features
List of additional Roccat Kone Pure Ultra features.
| | |
| --- | --- |
| Mouse Type | Gaming mouse |
| Ergonomy | Right-hand |
| Buttons | 7 |
| Suggested Grip | Claw grip, Fingertip grip |
| CPI/DPI Indicator | Yes |
| LED Lighting | Yes |
| LED Adjustable | Yes |
| Adjustable Weight | No |
| Color | Black |
| Battery Time | n/a |
| Battery Type | n/a |
Price and Warranty
Satisfaction is (not) guaranteed.
| | |
| --- | --- |
| Warranty | 2 Years |
| Manufacturer URL | https://en.roccat.org/ |
| Amazon | |
Review
What MouseSpecs think about this mouse.
Before I begin talking about the Roccat Kone Pure Ultra you should know that this is my first Roccat mouse.
I was hoping it will be my endgame mouse, unfortunately it isn't.
For the better understanding of strong and weak points Roccat Kone Pure Ultra I divided this review in a couple of logical parts… Let's begin.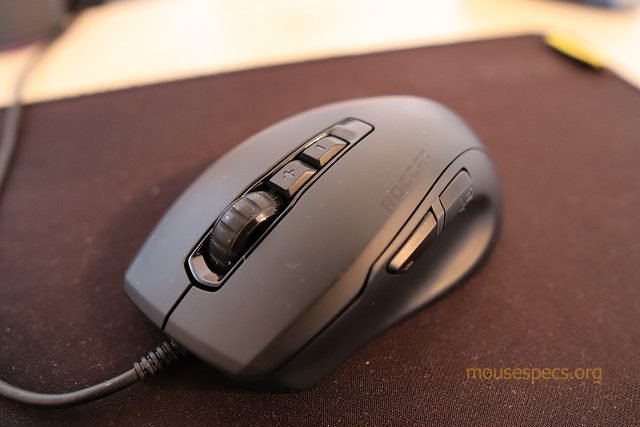 Size and Shape
Roccat KPU is a medium sized, right-hand mouse but regardless of the size due the specific shape (something like smaller version of MX 518 G) it fits only claw and fingertip grip.
Mouse is 115 mm in length, 70 mm in width and 39 mm in height. So it's a little bit shorter mouse. On the right side towards the end there is a vertical rounded ridge, that personally bothers me.
On the first moment I didn't like the shape (I prefer palm-fingertip hybrid grip) but after a few days of using it with clean fingertip grip I began to understand those who like it.
According to the specs it weighs 66 grams without cable, my kitchen scale shows 70.
1-2-2 and 1-3-1 grips are very well suited for this mouse.
Buttons
This is the main culprit why I find this mouse to be average. M1 and M2 buttons use Omron D2FC-F-K 50 million switches and although on some other mice these feels better, here its something off.
M1 clicks are inconsistent in feel. Sometimes are nice and crisp, sometimes are wonky and sometimes you can feel like some spring is doing its work down below. M2 is similar but since it is much less used you don't notice it that much.
Comparing the clicks with Logitech G502 they are noticably worse, but are similarly sounding. They sound nice.
Drag clicking works with this mouse.
Side buttons are ok and not affected by the issue plaguing M1 and M2.
Sensor
Roccat KPOE used PMW 3360 sensor. This mouse uses PMW 3389, however it feels the same as PMW 3360 sensor except resolution is boosted to 16000 cpi. Specs claim it tracks until 450 IPS and 50 G which is upgrade on paper compared to PMW 3360 specs. Roccat call their sensor variant "Owl Eye".
It tracks well, I couldn't spin it out. No complaints here.
Tracking height is adjustable and default tracking height is around ~1 mm. Polling rate is set by default to 1000 Hz.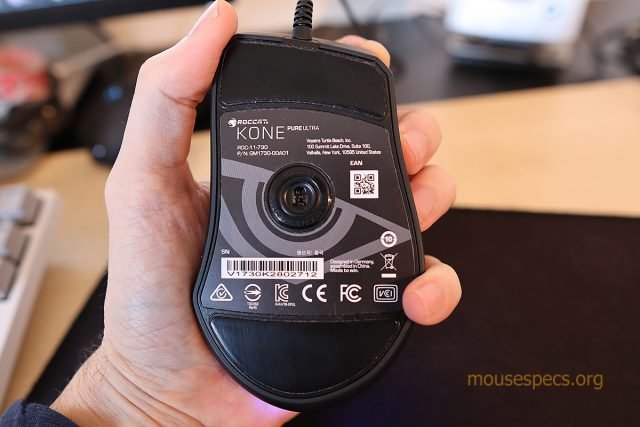 Scroll wheel
One word: perfection. Roccat calls it "Titan Wheel 2.0". Don't know how they achieved it since some other mice with ALPS encoder are similar but not nearly as good.
Tactility hits the sweet spot. Scroll wheel is firm, but not too much firm, it is without rattle, incredibly nice on touch and it feels like it belongs to a much more expensive mouse. Movements between steps is smooth and oddly satisfying.
Cable
Cable is average rubber cable. I prefer this instead of braided cables but paracord cable would be much better fit for such light mouse. It is 1.8 m in length and I personally like cable to be little bit longer.
Feet
I usually don't notice the feet and difference between mice which might be due the Sharkoon pad I have. Feets seem like classical PTFE. I don't feel I should change them or upgrade them.
Coating
Coating is good. Matte rubberized plastic. It feels well under the hand, much better than Nixeus Revel for example but not as good as G502. G502 Hero thus feels like much more expensive device.
Software
Mouse is compatible with the Roccat Swarm software. Software is around ~160 Mb big and it installs quickly without needs for restart. Weirdly right after install it asked for an update and some special module in order to recognize Kone Pure Ultra.
Once done, software allows you to modify cpi/dpi levels, change pointer and vertical scroll speed, calibrate mouse, set polling rate, activate angle snapping, set tracking height, program all buttons, modify RGB colors and many other options.
All of that can be saved to 5 onboard profiles. Although many people complained that Swarm app is buggy, for me everything worked out of the box.
Conclusion
Overall, it's a good mouse. Perfect scroll and lightness are main positive things. Everything else is average with main button being thinnest point of the Roccat Kone Pure Ultra.
People tend to praise Roccat "Titan Click" buttons and if they are like the "Titan Wheel 2.0" than I am eager to see and get hands on the future Roccat Kone iteration.
Video Review / Different Opinion
Adittional look and feel of the mouse.