Logitech G502 Hero is a successor mouse to Logitech G502 Proteus Spectrum and G502 Proteus Core.
Differences: improved sensor (Logitech replaced PMW 3366 with Hero sensor but in practice both feel the same), 50 million clicks Omron switches and better cable.
It's an interesting mouse with both free wheel and notched scroll. It feels much more expensive device than $40 suggests. It has perfect buttons, but it has some downturns, main one being very heavy and scroll wheel is like it or hate it thing.
Pros and Cons
Pros
Well-built mouse
Outstanding main buttons, crisp, consistent and oddly satisfying
Cheap ~$40-$50
Scroll wheel has two modes
Cons
Heavy
Notched scroll wheel mode is clunky sounding
Free wheel scroll mode is odd (like it or hate it situation)
Mouse Details
Brand, model and release date.
Manufacturer
Logitech
Model

G502 Hero

Release Date
2018
Your Rating
Price
Dimensions and Weight
Size and weight of Logitech G502 Hero mouse.
Length
~132 mm
~13.2 cm
~5.2 in
Width
~75 mm
~7.5 cm
~2.95 in
Height
~40 mm
~4 cm
~1.57 in
Weight
~121 g
~0.12 kg
~0.27 lbs
Technical Specs
Sensor, lift of distance and rest of the specifications for the Logitech G502 Hero mouse.
| | |
| --- | --- |
| Sensor Type | Optical |
| Sensor Model | HERO 16K |
| Perfect Sensor | Yes |
| Resolution (CPI/DPI) | 100 - 16000 |
| Max Resolution (CPI/DPI) | 16000 |
| Min Resolution (CPI/DPI) | 100 |
| Resolution Ratio (Max/Min) | |
| Maximum Acceleration | 40 G |
| Max Tracking Speed | 400 IPS |
| Polling Rate | 1000 Hz (1ms) |
| Lift Off Distance | Low, ~2.0 mm |
| Switches Type | Omron |
| Switches Lifespan | 50 million clicks |
| Feets (Material) | PTFE 250 kilometers |
| Onboard Memory | Yes |
| Smoothing / Filtering | No |
| Hardware Acceleration | No |
| Click Latency | 5.90 ms |
| Shift Latency | 8.09 ms |
Connectivity
Connectivity types for the Logitech G502 Hero mouse.
Connectivity
Wired, USB 3.0
Cable Length
~2.1 m
~6.89 ft
Cable Type
Braided cable
General Specifications and Features
List of additional Logitech G502 Hero features.
| | |
| --- | --- |
| Mouse Type | Gaming mouse |
| Ergonomy | Right-handed |
| Buttons | 11 |
| Suggested Grip | Palm grip |
| CPI/DPI Indicator | No |
| LED Lighting | RGB |
| LED Editable | Yes |
| Adjustable Weight | Yes (18 g - 5x3.6 g) |
| Editable Scroll-Wheel Resistance | Yes |
| Silent Clicking | No |
| Color | Black |
| Battery Time | - |
| Battery Type | - |
Price and Warranty
Satisfaction is (not) guaranteed.
| | |
| --- | --- |
| Warranty | 2 Years |
| Manufacturer URL | https://www.logitechg.com/ |
| Amazon | |
Review
What MouseSpecs think about this mouse.
Mouse feels well built and much more expensive than it really is. For example, Roccat KPU is almost double more money but difference between Roccat KPU and Logitech G502 Hero is the same as between Roccat Kone Pure Ultra and Nixeus Revel. However, I need to mention that Roccat has infinitely better scroll then both Nixeus and G502 hero.
For the better understanding of strong and weak points of Logitech G502 Hero I divided this review in a couple of logical parts… Let's begin.
Size and Shape
It is very comfortable mouse. Although I don't like look of it, it is one of the most comfortable mice I ever used.
Shape is safe and it is intended for right handed people. You can use any of the grips with it but people with smaller hand will probably use palm grip and people with bigger hands can use it in claw grip or fingertip grip.
I used palm fingertip hybrid and in 1-2-2 and 1-3-1 finger configuration and it worked well.
Logitech G502 Hero is 132 mm in length, 75 mm in width and 40 mm in height. It weighs 121 grams without additional weights and that weight is felt. However probably due the being heavy mouse, control of movement is very precise with it.
Buttons
Buttons are excellent. Especially M1 and M2. Crisp, consistent with no pre-travel and post-travel. If Roccat Kone Pure Ultra had these it would be the perfect mouse.
M1 and M2 uses 50 million Omron switches and unfortunately people on Reddit report lots of issues with those, specifically double clicking even in first year of warranty.
Beside main ones, G502 has 9 more buttons and all other buttons are good. All buttons are programable with provided software which you need to download from the Logitech web site.
Visually you also have led strip, where you can see which stored profile is selected.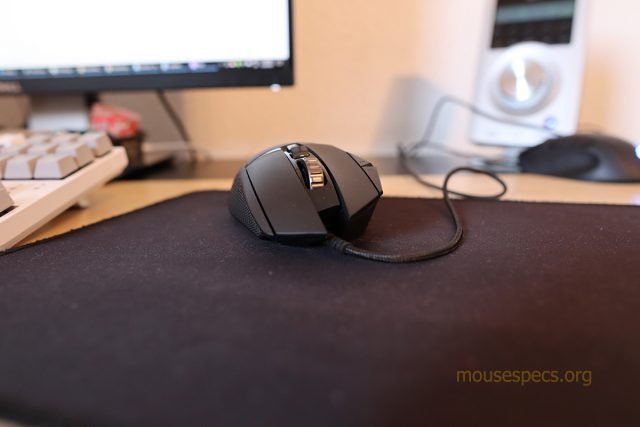 Sensor
Mouse comes with Hero 16K sensor from Logitech. That's the main difference between G502 Hero and its predecessors.
As said in previous review, this sensor tracks until 400 IPS and 40 G and I find it to be consistent and good sensor.
Steps can be configured in the range of 100 till 16000 CPI with the precision of 50 CPI. Polling rate is by default 1000 Hz but it can be adjusted to any of the following: 125 Hz, 250 Hz, 500 Hz and 1000 Hz.
Lift off distance is around 1 DVD.
Scroll Wheel
Scroll wheel is interesting and same as on G502 Proteus Core and Proteus Spectrum. It has two modes…
First one is when the scroll wheel is in freewheel (free spin) mode. It feels like fidget spinner toy and acts like one. I couldn't use to it although I can see why someone will like the smoothness of it.
Second one is when the scroll wheel is in classic tactile scrolling mode. Scrolling in this mode is smooth, with well defined steps (maybe little too well). Nevertheless, it's kind of noisy with clunky sounds coming out of it.
Aluminum scroll wheel definitely adds to the overall quality feel of the mouse.
Scroll wheel is also a tilt-shift button, which means that beside regular scroll wheel clicks you have right and left scroll wheel clicks. I blame this option for the clunkyness scroll has.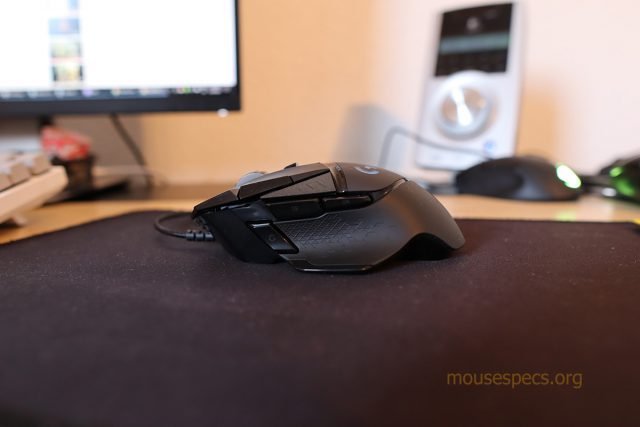 Cable
Cable is braided and it's better than on Proteus Core and Proteus Spectrum. For me it's good enough to not paracord it but lots of people on Reddit tend to do it.
As with most of the Logitech mice, this one too is 2.1 meters long.
Feet
Feet are good (PTFE Teflon). There is no need for replacement. And although I rarely notice quality of the feet, these are much better than for example on Nixeus Revel (which I had in the moment of writing this review).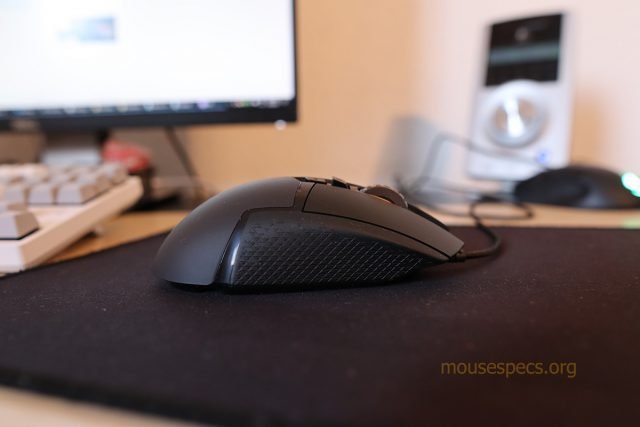 Coating
Coating is extremely well done on this mouse. It's pleasant to hold, fingerprints are not staying on it, and it is easy to clean the mouse.
I only hate the engraved lines on it, but strictly from the visual reasons.
Software
Software is classic Logitech G Hub. It allows you to reconfigure any buttons, assign macro commands, change acceleration settings, recalibrate tracking height, change polling rate and set resolution in steps by 50. You can also modify RGB light of Logitech logo.
You can save all your settings to profiles and later on switch those profiles via button on any computer without need for Logitech software.
Conclusion
It's a good mouse with great buttons. Scroll wheel is love it or hate it. It is a heavy mouse, even without added weight for which I don't see purpose.
I would use it for RPG or MMO games or simply as advanced business and productivity mouse. If you are FPS player, mouse will off course work, but I think there are better and lighter mice alternatives for FPS gaming.
Sub $40-$50 price is tempting and I wouldn't mind if I stuck with it.
Disclaimer
Altough Nixeus Revel, Roccat Kone Pure Ultra and Logitech G502 Hero are not mutual competitors, in the moment of writing I had those 3 with me, so some comparison is better than nothing.
Video Review / Different Opinion
Additional look and feel of the mouse.