If any mice series has the cult status, it's the Logitech MX510, MX518, G5, G400… series. All of those had some slight issues but total package was awesome and their specific shape would often ruin people for other mice (once you use it long enough).
Considering the numbers in which original models are sold, and that people are usually nostalgic Logitech decided to modernize hardware of MX518 and rerelease it as MX518 G Legendary.
This revamped version brings the flawless Hero 16000 CPI sensor, slightly lower weight and better, thinner cable. Almost everything else is same, the shape, the clicks feel, button positions, but not everything is right ☹… Mouse scroll is awful, tracking height not adjustable and the software is quite basic.
Pros and Cons
Pros
Excellent sensor
Size and shape
All buttons programable with the given software
Low click latencies similar to original MX518
Cons
Scroll wheel is subpar for the cult status this mouse has
Tracking height not adjustable
Mouse Details
Brand, model and release date.
Manufacturer
Logitech
Model
G MX 518
Release Date
2019
Your Rating
Price
Dimensions and Weight
Size and weight of Logitech G MX518 mouse.
Length
~131 mm
~13.1 cm
~5.16 in
Width
~73 mm
~7.3 cm
~2.87 in
Height
~43 mm
~4.3 cm
~1.69 in
Weight
~101 g
~0.1 kg
~0.22 lbs
Technical Specs
Sensor, lift of distance and rest of the specifications for the Logitech G MX518 mouse.
| | |
| --- | --- |
| Sensor Type | Optical |
| Sensor Model | HERO 16K |
| Perfect Sensor | Yes |
| Resolution (CPI/DPI) | 100 - 16000 |
| Maximum Acceleration | 40 G |
| Max Tracking Speed | 400 IPS |
| Polling Rate | 1000 Hz (1ms) |
| Lift Off Distance | Low |
| Switches (Lifespan) | Omron (20 million clicks) |
| Feets (Lifespan) | PTFE (250 kilometers) |
| Onboard Memory | Yes |
| Smoothing / Filtering | No |
| Hardware Acceleration | No |
| Click Latency | - |
| Shift Latency | |
Connectivity
Connectivity types for the Logitech G MX518 mouse.
Connectivity
Wired, USB 3.0
Cable Length
~2.1 m
~6.89 ft
Cable Type
Standard flexible cable
General Specifications and Features
List of additional Logitech G MX518 features.
| | |
| --- | --- |
| Mouse Type | Gaming mouse |
| Ergonomy | Right-hand |
| Buttons | 8 |
| Suggested Grip | Palm grip |
| CPI/DPI Indicator | No |
| LED Lighting | No |
| LED Adjustable | No |
| Adjustable Weight | No |
| Color | Black |
| Battery Time | n/a |
| Battery Type | |
Price and Warranty
Satisfaction is (not) guaranteed.
| | |
| --- | --- |
| Warranty | 2 Years |
| Manufacturer URL | https://www.logitechg.com/ |
| Amazon | |
Review
What MouseSpecs think about this mouse.
Before I begin talking about the new MX 518 G, you should note that I own original MX 518 for 15 years and I also had 2x MX 510. This is also the reason I was so eager to get my hands on it.
For the better understanding of strong and weak points of Logitech G MX 518 I divided this review in a couple of logical parts… Let's begin.
Size and Shape
There isn't much stuff to say about it, that isn't said somewhere online already. It is suited for right handed people and different hand sizes. For example small handed people will use it in palm grip, large handed people will be able to use it in claw or fingertip grip, however I use it as fingertip-palm hybrid and lots of people on Reddit seems to agree with me.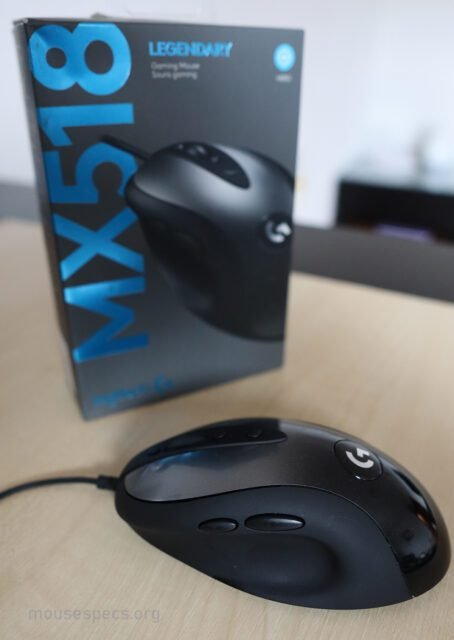 It's 131 mm in length, 70 mm in width and 44 mm in height. Weight around 100 grams. That makes it 10 grams less than the original MX 518 and those 10 grams can be felt in daily usage.
People used on ultralight mice will not be happy with it, however good thing is due the excellent balance it does not feel like a 100g mouse.
Although MX 518 does not use safe shape, and some people will dislike it because of it, it's shape over time will imprint so much on you, that you will look for it in other mice.
People who do 1-2-2 and 1-3-1 grips will be at home with the Logitech MX 518 G mouse.
Buttons
Mouse has 8 buttons in total and all are configurable via provided software. Switches are Omron with declared longevity of 20 million clicks.
Clicks are crisps and well defined, loud but not annoying. Compared to original MX 518 are slightly (barely noticeable) hollow sounding.
Side buttons are better than in old MX 518, but their position is not perfect and some other mice have them more upward which seems to be better solution.
Scroll wheel  button is rough to press and impractical. You will hate to use scroll wheel button with this mouse.
Sensor
Optical Hero sensor is excellent. It tracks well, it's predictable and reliable. You will enjoy in accuracy it gives you in games. Again, and again.
Steps can be configured in the range of 100 till 16000 CPI with the precision of 50 CPI. Polling rate is by default 1000 Hz but it can be adjusted to any of the following: 125 Hz, 250 Hz, 500 Hz and 1000 Hz.
Hero sensor is considered as flawless sensor.
Although every single review online stated that mouse tracks from height of 2 DVDs, in my case, it doesn't. It tracks from height of 1 DVD (1.2 mm) but not from the height of 2 DVD. This unfortunately is not configurable via Logitech software.
Scroll wheel
Scroll wheel is very bad, especially if you compare it to Roccat scroll wheels or wheels from G703 and G Pro mouses. It's even worse than original MX 518 scroll wheel, even as it both seems to be same hardware, Logitech MX 518 G scroll wheel is scratchy with rough and badly defined steps.
On top of it, scroll wheel seems loose and very cheaply built. Scrolling through kilometers of web pages would be painful experience.
There is a hope that over time of using it, it will become smoother as with original MX 518 scrolls did. One positive side is that this optical scroll is very reliable.
Cable
Cable is just as I like it. Plain, simple, rubber cable. It is soft enough and does not provide any significant at least not annoying resistance. It's thinner than on MX 518 from 2007.
You will not have need to paracord this cable.
It is 2.1 m long and I think all mouse brands should have this length as standard.
Feet
Feet are exactly same as on the original MX 518. Material is PTFE. Out of the box these are smooth and you will not need replacement, however judging by the experience with old MX 518 these will fail after 3-5 years and you will either replace them with better after market solution or simply continue without them.
Coating
Mouse plastic is glossy with sides being matte rubberized plastic. Both things are upgrade from the old MX 518 metallic bubbly finish and smooth rubberized plastic side grips.
Software
Software is very basic. Logitech G Hub allows you to reconfigure any button on the mouse or assign it macro commands.
From hardware side you can change and assign resolution and polling rate. From this mouse in 2020 I would expect that you can also adjust tracking height but you can't. People report that with certain mousepads mouse tracks even from higher distance than in our case
You can save all of these to 5 memory profiles on the mouse..
Conclusion
It's a good mouse with a lousy scroll wheel. If I would need to rate it on scale 1 to 5, I would give it four. Why? As a fan of original MX 518 I would like it to be better mouse. Main downside is the lousy scroll wheel, but side plastic should be better too.
It could be little bit lighter but I don't feel it's a heavy mouse. It has enough weight for precise movement, but not much to be annoying and it's perfectly balanced.
You can use it for competitive gaming and in fact some players known to use or used this mouse are: KennyS (CS:GO), Jackz (CS:GO), nexa (CS:GO), Gratisfaction (CS:GO), Rickeh (CS:GO), pfzin (Twitch streamer), Arikadou (Fortnite), Hetror (Twitch Streamer) and many others…
Logitech MX 518 G is best suitable for FPS games such as CS GO, Overwatch, PUBG or Fortnite. But it will serve well in other genres as well.
As an office mouse Logitech MX 518 G is a good mouse, in fact it's much better than any usual office mouse.
You should also note that one more almost exact MX 518 clone with excellent sensor is available on market – "Nixeus Revel Fit". However, I haven't had that one in my hands and can't say much about it.
Video Review / Different Opinion
Adittional look and feel of the mouse.